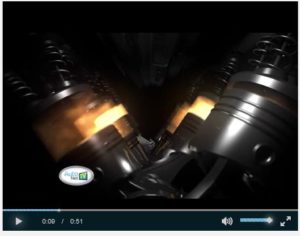 When is the last time you checked to see how clean your engine was? Is it clogged with dust, debris or gunk? If you've never had an air induction service, then it very well could be. Over time, as you drive road after road, your fuel system can get dirty. Deposits accumulate on intake valves, injectors, ports, fuel injectors and combustion chambers causing loss of power, rough idle, hesitation, misfire, pinging, knocking, mileage and hard starting. These small issues could turn into major engine problems down the road.
As you'll learn from one of our recent auto repair videos online, all internal combustion engines combine fuel and air to be burned in the engine.  With some types, fuel and air get mixed outside of the engine and with others, they're mixed right in the cylinder. The fuel and air induction systems bring the components of combustion together and both get dirty over time. An air induction service is important because it will keep your fuel system cleaner which equates to better fuel economy and improved engine performance.
During the air induction service, our Tempe auto repair technicians will flood your engine with gasses that contain special cleaning agents into the intake manifold while the engine is running. This agent actually removes and dissolves the deposits emitting them out of your car's tail pipe. This is important because the deposits that build up crusted on form a barrier and act as a sponge, soaking up fuel and restricting air flow. The service takes care of this buildup, letting your engine breathe and do its job – and well.
We can perform the air induction service on all vehicles and you'll enjoy a boost in fuel efficiency, a reduction in harmful pollutants emitted from your vehicle and a longer engine life because it can perform with less stress. If you aren't sure of the condition of your engine, now may be the perfect time to contact our auto repair shop and schedule this service. If you're interested in learning more, take a minute and enjoy our short but informative video right here on our website. We hope to see you soon!