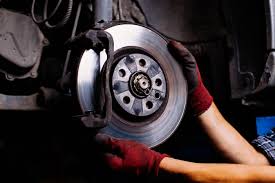 There are many parts of a car that we tend to see people ignore until they break – and then suddenly what could have been inexpensive preventative maintenance is suddenly a major repair that is expensive. Brakes are one of those things that are quick and painless to take care of, but can easily run into the big money if you ignore them. Let's consider this…
Are your car's brakes screaming for help?  When you drive down the street are your neighbors holding their ears?  If you notice this, it's past time for a brake pad change. It is cheaper to keep your brakes in good working condition, than waiting for that first screech and then looking for cheap brake service.   Here at Good Works Auto Repair, we will thoroughly check and replace the pads on your car and have you back on the road in no time.
Don't let the brakes get worn down.  Simple brake pads will end up costing more if you go too long. If the brake pads get worn down to the metal, the rotors can get scratched and require repair.  Obviously, this will require replacing not only the pads but now you have to buy the rotors too!  So come in for regular service, from a reliable repair shop in your community. Visit our website to see what other services we offer and to schedule an appointment online.