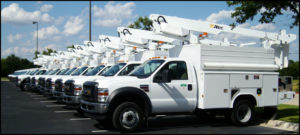 If your business handles a fleet of vehicles, Good Works Auto Repair can help lift some of the burden when it comes to the preventative maintenance and auto repairs that your fleet of work vehicles may encounter. When your fleet of vehicles – even just one – is out of commission, we know that it can cost you time, money and customer satisfaction. Our goal is to allow you to outsource your fleet maintenance to our technicians and manage your vehicles so you can get back to focusing on what is really important to your business. Providing OUR customers with the best solutions and service is what is best for YOUR customers.
When it comes to handing over your fleet maintenance, so we can maintain your vehicles rather than repair them, there are numerous benefits that you will enjoy over the course of our relationship. Some of them are obvious and others are a bit more subtle, but when combined, they can add a lot of value and ease for your business.
What benefits are there to outsourcing with GWAR?
Fiscal benefits due to improved fleet safety, increased availability and reliability, greater cash flow, and enhanced productivity.
Improved company focus and less time worrying about the condition and maintenance of your fleet vehicles.
Reduced fleet operating costs due to optimal preventative maintenance and avoiding major breakdowns and repairs.
Improved human resource productivity with fewer persons to manage, resources going directly to the business and better fleet services.
Improved fleet performance because the vehicles are properly maintained.
Access to constant fleet expertise.
Quick turnaround on fleet maintenance and repairs as well as warranties on parts and service.
Improved quality of repairs.
Reduced capital investment because you won't have to purchase backup vehicles or non-core business purchases.
Increased cash flow.
Increase in control by telling us what you need.
Reduced overhead.
Reduced risk because we follow OSHA, EPA, DOT as well as various federal, state and local laws.
Your fleet of vehicles is essential to the success of your business. Utilizing our fleet maintenance service will make things a lot easier for you and a lot better for your customers. Learn more here.